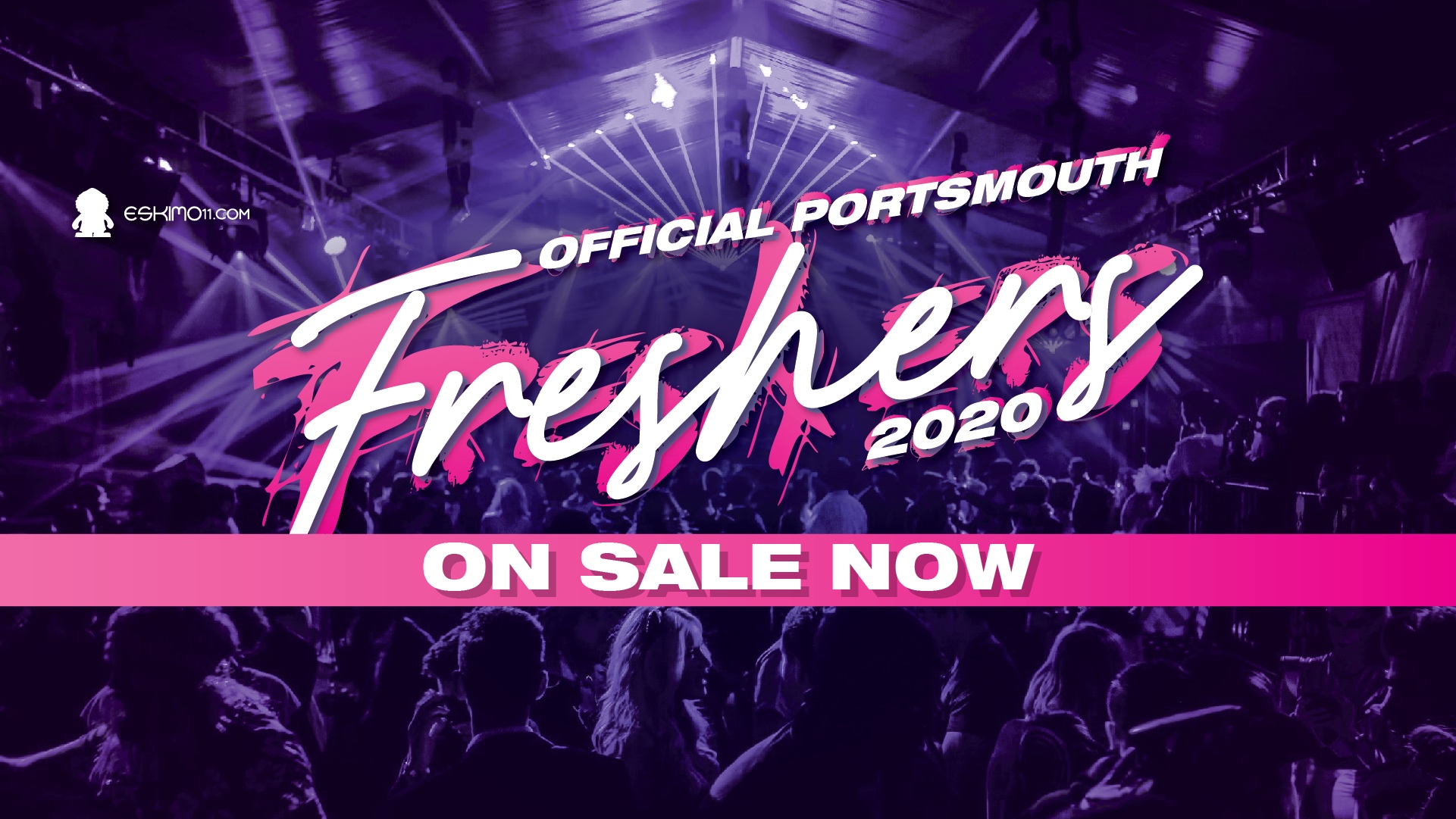 Official Portsmouth University Freshers Pack 2020
Welcome to Portsmouth and welcome to the best years of your life!
The University of Portsmouth Student Union has once again teamed up with Eskimo11 to provide the ONLY freshers ticket you need!
Your official Freshers pack includes – 
Freshers Ball 2020 – (Freshers Pack Exclusive)
The Moving in Party.
The Freshers Big Night Out.
The Freshers Week Rave
Plus free club tickets / discount cards / free merch and much more!
Saving you over £50pp! 
COVID19 Refund Statement:
We would like our customers to have peace of mind when they purchase from us. 
In the unfortunate case that our freshers events do not take place on the set date due to nightclubs/bars still remaining closed:
– We will postpone the event until a later date
(when nightclubs/bars are reopened & it is safe for us all to party) & your ticket will still be valid for that date. This change of date will be no later than May 2021. If the change of date is no longer convenient for you and you can not attend, then we
will honour a full refund on any ticket or wristband you have purchased. However, please be aware, these refunded tickets will be placed back on general sale and may not be available for you to purchase again should you change your mind!
– If we are forced to cancel the event, we will
issue a FULL refund on any ticket or wristband you have purchased.
In the event that you
no longer wish to attend any event due to personal concerns with Covid-19 developments, a full refund will be available until midday two days before the first event ( i.e. midday Wednesday if the first event is on Friday). Please be aware these tickets will
be placed back on general sale and may not be available again. No refund is available after this time.
This Refund Policy is subject to change depending on Government Guidance.
Helping to Keep our Teams and Customers Safe and Reassured.
We're putting extra measures in place to help you, our teams and our partners as we look to reopen the party
Looking after our team
Training our staff in accordance with the latest government guidelines for safe working
Giving them everything they need to work safely, including training on cleanliness and hand hygiene
Temperature checking them at the start of every shift
Carrying out full risk assessments on our venues, to protect all those who help operate our events
Customers optional wearing of face masks
Customers are supported to wear face masks should they wish to do so
Unless stated by government guidelines this will not be compulsory for entry
Sanitising dispensers around venue
Having hand sanitisers at entrances and throughout our venues
Regularly checking and sanitising hand washing facilities in toilets
Making sure there is hand sanitiser available where tills are accepting cash
Disposable cups used
Disposable cups are optional at some venues
Alternatively, robust cleaning methods will be in place to mitigate risks with using plasticware
Door handles and toilets disinfected every hour
Regular cleaning of high traffic areas will be scheduled 
Dedicated staff member who will be responsible for recording these safety checks and offering assistance where necessary.
Contactless Service
Customers are encouraged to use contactless payment at the bar
Safety measures will be in line with government guidance and therefore subject to change.